Introduction
Noosa is one of Australia's best loved beach destinations. And what's not to love? Noosa has it all. Amazing beaches, national parks, delicious food, and a ton of activities for the whole family to enjoy.
If you're planning a holiday to Noosa, here are some of our favorite activities, places to visit and things to do in Noosa.
Noosa Heads & Hastings Street
Our coastal town of Noosa Heads is a vibrant hub located within a beautiful setting adjacent to the Noosa National Park on the southern shore of Laguna Bay.
Hastings Street is a popular shopping and restaurant precinct with a laid-back beach vibe and in 2019 was voted the best main street in Australia! There are a great selection of eateries in and around Noosa Heads from early breakfast to late night cocktails venues. From takeaways to stylish boardwalk dining and champagne bars. You definitely won't go hungry on holiday in Noosa!
Noosa is also known for its choice of excellent boutiques selling local artisan ware, clothing, surf wear, jewellery, and International labels. And if you feel like being pampered there are relaxing day spas and beauty centres.
Noosa Restaurants
Our Balinese Beach House is fully equipped for you to cook up a storm at home every day, but when you're tired of cooking head over to Noosa Heads where you'll find a great mix of laid-back and stylish restaurants, eateries, cafes and ice cream parlours.
Noosa is one of Australia's favorite foodie destinations and has so many great restaurants offering local and international cuisine.
If you want to enjoy a waterfront setting with your meal, then try out Rickys, Sails, Bistro C, Season, Noosa Waterfront Restaurant and Bar, Zachary's or The Thomas Corner Eatery.
But for a casual waterfront setting with a difference head to the Noosa Boathouse on Gympie Terrace on the Noosa River. This three storey venue features a restaurant, coffee bar and a top deck sunset bar. Perfect for a sundowner cocktail after a day on the river or at the beach!
Whatever your taste buds desire, you'll find it in Noosa. From the Japanese restaurant and bar, Wasabi, to BBQ feast heaven at Wood Fire Grill, or the delicious Cali-Mexican inspired eatery, Paradise Arcade. If Asian-style cuisine is your thing, then you'll be spoilt for choice between Embassy XO, Sum Yung Guys or Light Years.
After your meal, why not indulge in a delicious cocktail or two at trendy Locale restaurant. Renowned for great Italian food and its Passion Cocktail!
Or why not grab some food at one of the local takeaways and head to Noosa Woods for a beachfront picnic!
Noosa Cinema
You're definitely spoilt for choice with TVs and channels in our Balinese Beach House in Noosa, but if there is a film on that you really don't want to miss during your holiday, then head to Noosa Cinema for a night at the movies.
The BSS Cinema is located just 3 minutes' drive from our holiday villa and aside from screening the newest movies, you can also enjoy some exciting events and festivals held throughout the year. Check out the Noosa Cinema website for screenings and events during your stay.
Noosa National Park
Stunning coastal scenery, beaches, three lakes, woodland, rainforest, a Eucalyptus forest, and an important haven for wildlife spread over 4000 hectares in total. THIS is Noosa National Park!
Our Balinese Beach House is perfectly situated to explore the national park. Access to the park is just meters from the house and the main track will take you around Noosa Headland via a spectacular coastal walkway.
The national park is an important area for natural conservation on the Sunshine Coast and home to endangered species and exotic birdlife. You might even spot a koala in the trees behind the beach!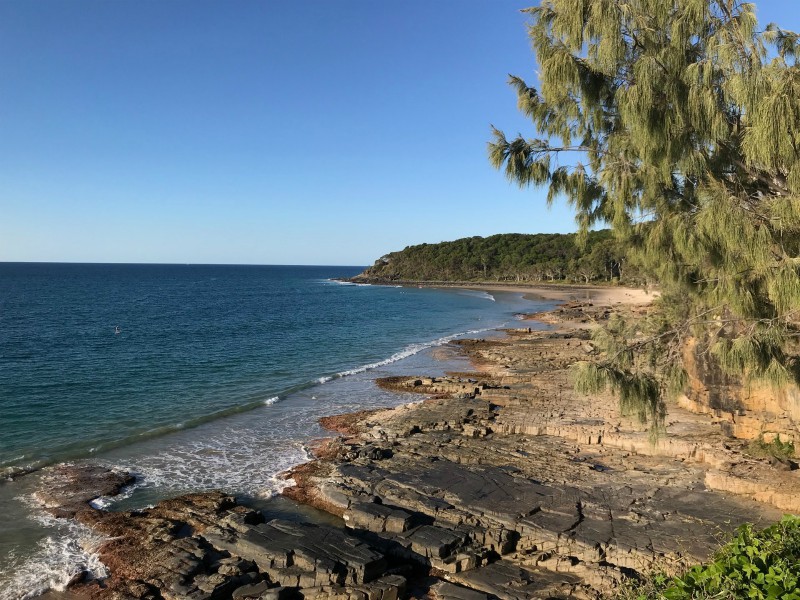 Noosa National Park Trails
You are spoilt for choice with walking trails in and around the Noosa National Park. Our Balinese Beach House is perfectly situated to explore the park and access the Alexandra Bay track that starts at the end of the cul-de-sac.
There are walking trails for all levels of walker. Short and easy such as the 1.1km Palm Grove Walk or the 2.8km Noosa Hill Walk, to the 8km Tanglewood Walk and the 10.8km Coastal Walk. Check out this handy Noosa Headland Section Map which shows wheelchair access, viewpoints, picnic spots and more.
Noosa Fairy Pools
A favourite with locals is visiting the Noosa Fairy Pools located in the Noosa National Park. These natural rock pools are situated at the end of Granite Bay, which we walk to from our holiday home along a sandy track shaded by native trees and occasional rustlings remind us this is home to small native animals. Keep an eye out for goannas along the trail and sea eagles circling above. At beautiful Alexandra Bay the track becomes a spectacular coastal walk to the pools. Noosa National Park walking tracks are a step back in time where you can truly enjoy nature in the wild!

There are two fairy pools to swim in, which are perfectly safe and protected from the ocean waves. But access is over the rocks and requires caution. It is best to time your arrival for low tide and choose early morning and a weekday. And snorkels make it more fun to explore up close the different sea life that make their home in the fairy pools.
Noosa Chocolate Factory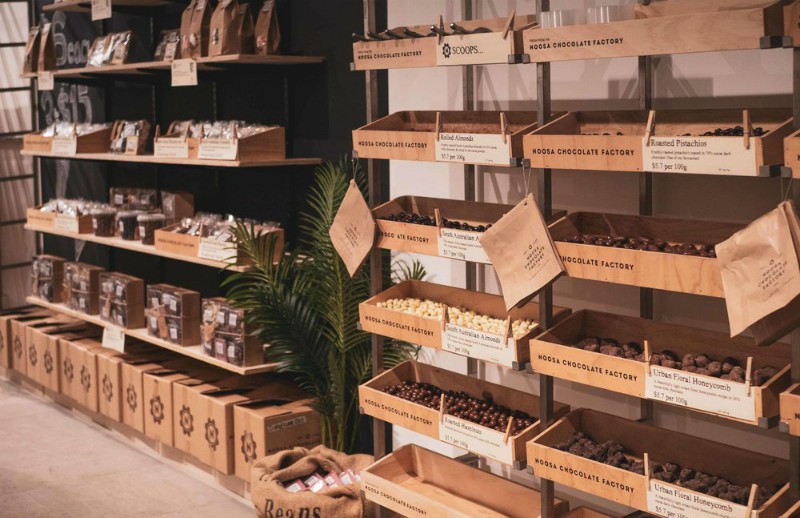 If you have a sweet tooth then we recommend a visit to the Noosa Chocolate Factory store, where the specialty is panning (chocolate coating). Here you can savour cranberries, coffee beans, strawberries, Macadamia nuts, amongst many other chocolate coated delights.
All the chocolate products are handcrafted and can be enjoyed together with a delicious speciality coffee or hot chocolate. The factory outlet store is open from 7am to 7pm. Check out the Noosa Chocolate Factory website for further details.
Noosa River Fun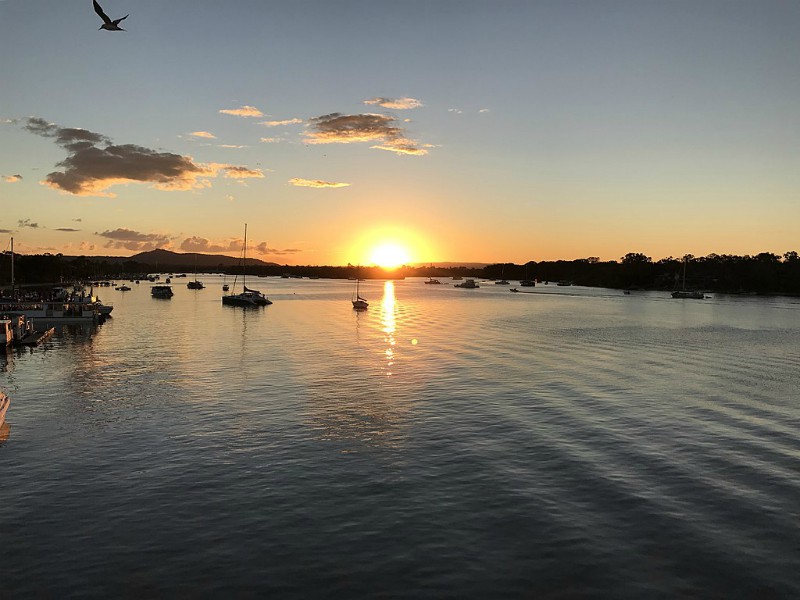 Noosa is a beach holiday destination, but the fun doesn't stop at the beach. Head to Noosa River for a day of water activities. The river's calm waters are perfect for all types of water sports, including kayaking, stand up paddling, jet skiing, or a leisurely boat cruise. Plus the river is an ideal spot for a fishing trip.
Towards the northern end, the Noosa River extends to the Noosa Everglades. These waterways are one of only two Everglade environments in the world and home to a diverse ecosystem and is a bird lovers' paradise.
Along Noosa River there are plenty of dining establishments. Gympie Terrace is the place to head for breakfast, lunch or dinner options. One of the local favorites is Ricky's River Bar and Restaurant. A beautiful waterfront restaurant where you can enjoy a delicious meal as you watch the sunset over the Noosa River.
Or why not pack up a picnic to enjoy a lazy lunch at the water's edge?
There are several companies on Noosa River offering boating trips, SUP and water sport equipment hire. Eco Noosa is a good company to start with to see what's on offer.
Noosa Surfing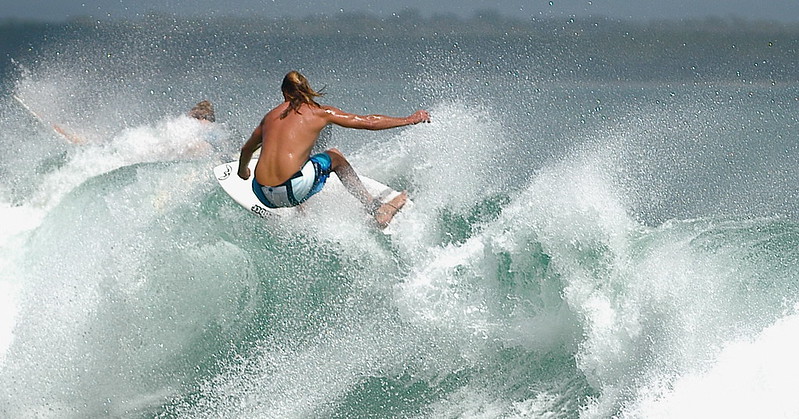 Noosa beaches are a surf junkies heaven. It's renowned for being one of the best places in the world for longboarding breaks, but Noosa is ideal for all types of breaks in a less crowded environment.
With five world-class break points, Noosa is one of only 10 surf reserves in the world, and an ideal destination for novice and seasoned surfers. From Christmas through to April is peak surf season and the best time of year for waves due to the cyclone swells.
However anytime of year is great surfing in Noosa. The Noosa surfing community is family orientated, so if you are a surfer and want to initiate your kids, this is an excellent place to head to.
If you have a car you'll be able to surf a new beach along the coast every day. And if you need some surf lessons there are a handful of excellent local surf schools, such as Merrick's Learn to Surf.
Check out the Noosa tide times before you set out for a day's surfing.
Noosa Farmers Market
One of the best places to buy food during your stay in our Balinese Beach House is at the Sunday Farmer's Market, which takes place in Weyba Road, close to the Australian Football Club grounds.
The market is always busy with stalls offering seasonal fresh and organic produce, such as bread, seafood, olives, cheese, fruits and vegetables, marinades and freshly squeezed juices, such as the famous Noosa Sugar Cane Juice. You'll also find stalls selling beauty and skin care products. For further details of the Noosa Farmers Market check out their website.
If you want a wider choice of seafood and fish, head to the Noosa Junction Seafood Market, where you'll be able to choose amazing fresh wild-caught seafood. Their professional team knows the perfect art of filleting fish, so all you have to do is take it home, add seasoning, and whack it on the bbq for an impressive and delicious dinner.
Noosa Eat & Drink Festival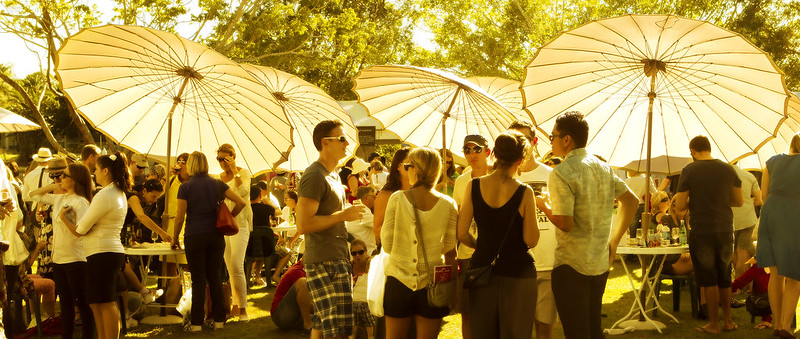 And whilst on the subject of food, we must mention the Noosa Eat and Drink Festival held from 14-17 of May. The festival brings together some of Australia's most celebrated chefs and critics for four days of food, music and fun!
The 2020 calendar is chock full of culinary workshops and tastings, such as a Whisky Masterclass, a slow food forage through the local markets and farms, and an Australian Bush experience.
Check out the Noosa Eat & Drink Festival for what's on and to book tickets for the different events.
Horse Riding in Noosa
An incredible way to explore the Sunshine coast and bushland is on horseback. There are several trails through Noosa National Park, to the lakes, and along the beaches. Enjoy beautiful scenery and an amazing adventure on well-trained horses.
A horseback ride is suitable for all levels from beginners to experienced riders. A tour guide will accompany you for safety and to ensure you don't miss out on spotting wildlife and sights of interests.
This is a really relaxing experience and highly recommended for families with children. A typical horse riding adventure will last between 1-2 hours and most schools offer group and private tours. One such school is Noosa Horse Riding who operate from Lake Weyba and Noosa North Shore.
Brisbane to Noosa
If you are travelling from Brisbane to Noosa, or want to visit Brisbane during your Noosa holiday, you can arrive by car, shuttle bus, train or airplane. Brisbane is around 140km from Noosa and will take you around an hour and a half by road.
Travelling by bus is easy on the Con-X-ion shuttle bus. There are regular daily services which can pick you up from various Brisbane points and take you straight into Noosa.
The closest train station to Noosa is at Coor0y, 2o minutes west of Noosa or Nambour which has a more frequent train service and a connecting bus or where you can pick up your rental car.
The closest airport to Noosa is the Sunshine Coast Airport at Maroochydore a half hour's drive away.
There are so many things to do in Noosa. These are just a few of our favourite activities, places to visit and best restaurants and eateries. Keep checking back to our Noosa blog to see more about what to do during your Noosa holiday.